Well, just where do we start...?! Our brick pizza oven has been completely redesigned in 2017 drawing on our years-long experience with it. This is the second time the oven is improved, the first was around 2013. Please keep in mind that except for the first 10 photos all other photos show the older model, we will be replacing them as we get pictures of the new oven from our customers. Alright, so here is the scoop on the new features:
1) The door is no longer made from steel, it's a 1.5 cm thick cast aluminum door! The door now has a glass viewing area to see the food cooking while saving the heat by keeping the door closed. There is also a big improvement in size: the opening is 16" wide - you can make a much larger pie! Note the new air control at the bottom - very easy to use - just swing from left to ring. And finally: the new door has not 1 but 2 holes to support rotisserie spits - cook more at the same time!
2) The floor is now made from firebricks and not clay tiles! Firebricks tend to be more durable than clay tiles and keep the heat better = crustier bottom.
3) The arch is now full brick, not half-bricks as on the old model. It's only an aesthetic difference but we found many customers asking about it, so...
4) The dome is made from white refractory bricks, not Portuguese clay bricks. Truth is: we had virtually no complaints about the old bricks either but the new ones are supposed to be even stronger.
5) The chimney is now stainless! There is an optional 3' double wall insulated stainless steel chimney extension and rain cap.
6) There is also new refractory cement used to cover the oven on the outside.
The other great features are still there: the oven is very easy to re-finish on the outside with your choice veneer (stucco, paint, tiles, stone, etc) or you can just leave it "as is". The oven is 39"x39" on the outside, approx. 31" in diameter on the inside, and about 30" high on the outside. The weight is approx. 1500 lb.
What's the difference between this oven and the other Portuguese brick oven that we have? In general they work the same way. This oven has a cast aluminum door and is easier to re-finish on the outside. On the other hand, the other oven is sprayed with cork and is a little larger on the inside - maybe a couple of inches. But overall it's the same cooking experience.
The Design. Wood fired brick ovens are as old as Portugal itself. People have cooked in them for centuries passing an oven from generation to generation. Amazingly though the oven has not changed a lot even in our age! Want to know why? Because it was perfect from the start! The natural terracotta kiln-fired bricks, spherical dome, mineral insulation, clay floor, and high temperatures combine to deliver tastes which are not easy to forget. The design of traditional Portuguese brick ovens allows for perfect heat distribution inside the dome because if its multi-faceted inner surface: bricks radiate heat inside the oven at every possible angle, there are no cold spots! The higher dome of the oven allows for intense yet not damaging heat, perfect for baking!
The Food. Our brick oven delivers a remarkable array of dishes: slow roasts, fish, paellas, stews, rice, vegetable, and of course bread and pizza. Originally the oven was not intended for pizza simply because pizza was not on a diet of a typical Braganza or Coimbra village family. However as time passed it was discovered that these Portuguese heat machines bake amazing crusty focaccias and pizzas in just 2 minutes!
The Oven. The Portuguese brick oven is 100% hand made. First a cement base is poured and then the dome is built from natural kiln-fired rounded clay bricks. Care is taken to make the dome shape perfect for inside heat radiation. With the dome finished and chimney added the floor is covered with natural yellow sand and terracotta tiles over it- this is your cooking surface. On top of this we insulate our ovens with a thick layer of rock wool! The effect of this is much longer heat retention & reduced exterior temperature. Rock wool is then overlaid with chicken wire and high quality refractory cement, smoothed and painted. The oven is fully finished and can remain as is. However if you wish you can easily refinish it by applying stucco, tiles, stone veneer, enclose it in stone, or just paint it. The oven comes with an "Ultrafire" kit to patch possible exterior cracks. Hairline cracks are normal but minimal with this oven, they present no danger to the oven itself and will add to your reputation as an expert pizzaiolo!
The Use. Portuguese brick ovens easily reach 900F and above for crusty pies in 90 seconds. The high Portuguese oven dome assures uniform and amazing bread baking. You can also do mouth watering rotisseries inside the oven - chicken, turkey, etc. And of course every other dish you can think of.
The Love. Our ovens were quickly recognized for their warmth, taste, and ambience, and found thousands of loving homes from Canada to Australia. It's a part of home, week-end, beers with friends, soccer game, backyard party, family dinners. In short: a part of life.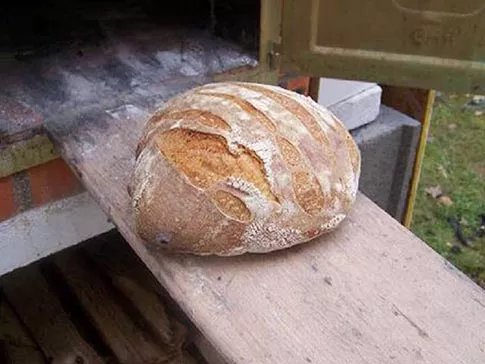 Videos of the old "Classic" oven:
---