Our "Classic" brick pizza oven has been redesigned in 2017 drawing on our years-long experience with Portuguese ovens. Please note that the photos show both the new and the old oven, we are replacing the older photos as we are getting the new ones. In the meantime you can tell the difference by the door: the new oven has a black door with glass. Here are the new features:
1) The door is no longer made from steel, it's a 1.5 cm thick cast aluminum door! The new door has a glass viewing area to see the food cooking while the door is closed. There is also a big improvement in door size: the opening is 16" wide - you can make a much larger pie! Note the new air control at the bottom - very easy to use - just swing from left to ring. And finally: the new door has not 1 but 2 holes to support rotisserie spits - cook more at the same time!
2) The floor is now made from firebricks and not clay tiles! Firebricks tend to be more durable than clay tiles and heat up better = crustier bottom.
3) The arch is now full brick, not half-bricks as on the old model. It's only an aesthetic difference but we found many customers asking about it, so...
4) The dome is made from white refractory bricks, not Portuguese clay bricks. Truth is: we had virtually no complaints about the old bricks either but the new ones are supposed to be even stronger.
5) The chimney is now stainless!
6) There is also new refractory cement used to cover the oven on the outside.
The other great features are still there: the oven is very easy to re-finish on the outside with your choice veneer (stucco, paint, tiles, stone, etc) or you can just leave it "as is". The oven is 39"x39" on the outside, approx. 31" in diameter on the inside, and about 30" high on the outside. The weight is approx. 1400 lb.
Main Features of Traditional Portuguese Wood Fired Ovens:
Uniform heat distribution, no cold spots!
Cooks anything you can imagine: pizza, bread, vegentables, meat, fish, and more!
Totally hand-made!
Authentic brick structure & looks!
Insulated!
Loved worldwide!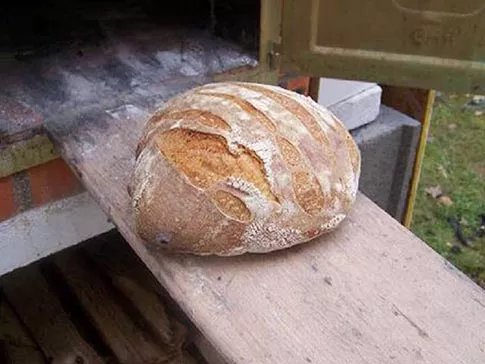 Videos of the old "Classic" oven:
---